Lenny Suijkerbuijk, de wellness advocate laat jou weer voelen als de Queen of Sheba. Zij is de Healthy & Sexy Lifestyle talks gastspreker van vandaag. Lenny woont al 1,5 jaar in Singapore samen met haar man en zoon.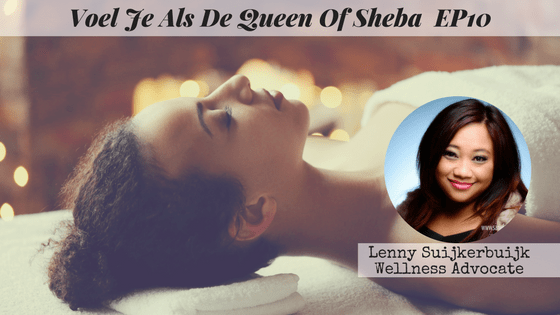 Door haar eigen pijn uit het verleden, en de heling en transformatie die zij heeft ondergaan, heeft zij zichzelf toestemming gegeven om als wealth en wellness advocate, vrouwen online & offline te helpen om diepgaande blokkades te doorbreken, die hen ervan weerhouden om hun roeping te leven. Dat doe ze door trainingen te geven die speciaal gemaakt zijn voor het brein en het hart van een vrouw.
Zij geeft je praktische handvaten, met een vleugje spirituele ontwikkeling. Omdat het één niet zonder het andere kan, wanneer het gaat om een stevige basis voor een fantastisch leven! En ja, zij kan je een keiharde schop onder jouw reet geven. En zij vangt je daarna even zo liefdevol weer op waarbij ze jou laat zien waar je zoal heen kan.
Luister naar deze sessie met Lenny en meld je via haar nieuwsbrief aan voor haar maandelijkse webinar.
Heb je vragen voor Lenny? Stuur deze dan door naar podcast@vivalavive.com  of stel ze via de voicemail (roze tab, rechterkant) zodat ik haar nog een keer uitnodigen voor een interview.
Lenny is te vinden via
Garden of Beauty site
Garden of Beauty Instagram
Garden of Beauty Facebook
Garden of Beauty Twitter