Poep is een onderwerp waarover veel mensen niet durven te praten. Hierdoor het lijkt alsof iedereen de regenboog poept terwijl dit niet het geval is. Dus vandaag gaan we poep bespreekbaar maken met Let's Talk About Poep, oftewel #letstalkaboutshit.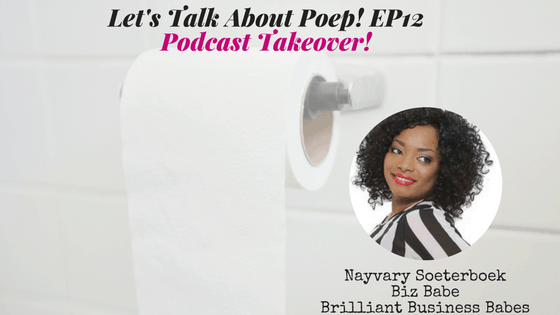 imagecredit StockUnlimited + Nayvary Soeterboek
Veel dames beseffen niet dat het soort poep dat zij poepen veel kan zeggen over hun gezondheid. Ik ben geen poepfluisteraar, maar ik ben iemand die graag met trots achteromkijkt om mijn poep snel analyseren. Nayvary Soeterboek, de Biz Babe van Briljant Business Babe, gaat vandaag de Get Your Healthy & Sexy Back Podcast kapen. Zij gaat mij allerlei stinkende vragen stellen over poep. Deze vragen hebben we uit diverse social mediagroepen verzameld. De hoofdvraag was
Wat wil je over poep vragen of weten?
De vragen die je misschien niet zomaar aan een ander wilt vragen. Hieronder staan een aantal vragen:
Hoe vaak poept een gezond mens gemiddeld?
Hoe hoort jouw poep eruit te zien?
Hoe horen we te poepen?
Als je poep droog is en vaak pijn doet om eruit te persen, is dat een teken van te weinig water drinken?
Hoe komt het dat kinderen niet durven te poepen op een pot of op het toilet?
Hoe maak je jouw poep geurloos?
Wat Je Poept, Ben Jezelf!
Praten over poep is niet sexy maar wel healthy vooral wanneer je last hebt van jouw stoelgang is het belangrijk om dit bespreekbaar te maken met jouw huisarts, partner, vriendin zodat je niet met jouw $hit blijft zitten. Poep is en blijft afval dus moet het geloosd worden, iedere dag dat je niet jouw poep kan lozen, kan dit gevolgen hebben voor jouw gezondheid, zelfs jouw humeur. Probeer met een gladgestreken gezicht en mindset te luisteren naar gezondheidstips over het broodje poepverhaal waar veel mensen niet over durven te praten.
Tijdens het interview was het soms lastig om niet de lachspieren te gebruiken want ja zo normaal is het niet om gewoon een interview te houden over poep. Ik hoop dat je dat van deze WC Potcast (bedacht door M) hebt geleerd waarom het belangrijk is om altijd achterom te kijken.
Meer weten? Luister vooral naar deze podcast!
Wil je meer informatie over de stoelgang? Kijk dan even bij Thuisarts of bij de Maag Lever Darm stichting voor meer informatie.
Heb je vragen voor mij over voeding of de gezonde lifestyle? Stuur deze dan door naar  podcast@vivalavive.com of stel jouw vraag via de voicemail (roze tab, rechterkant) zodat ik later kan beantwoorden in een interview.
Get Your $HIT Together!
Nayvary Soeterboek is te vinden via
Brilliant Business Babes site
Brilliant Business Babes Facebook
Brilliant Business Babes Facebook groep
Brilliant Business Babes IG
Hieronder tref je een voorbeeld de Bristol Poop Chart