Gaat het Voedingscentrum de uitdaging aan om
Kizomba
(een romantische dansstijl) met de Nutrition Advocate te dansen?  Sonya Dias, de dame van Sonya Spreekt*, heeft de Get Your Healthy and Sexy Back! Podcast gekaapt omdat ze mij graag wilde interviewen over het vervolg van No Spang.

No Span(g) menu van het Voedingscentrum
Vorig jaar rond deze tijd heeft het Voedingscentrum de nieuwe schijf van vijf uitgebracht met 'enige' aandacht voor diversiteit. Mijn mening over deze verfrissende wijze van denken heb ik in een semi-komische video gedeeld. Zie hieronder het filmpje No Span(g). In dit filmpje maak ik mij duidelijk druk om de wijze waarop het Voedingscentrum diversiteit aanpakt.
 Voedingscentrum moet zijn heupen soepel bewegen
Het Voedingscentrum heeft destijds cool gereageerd op mijn video. Zie hieronder de tweet. Ze hebben maanden later inhoudelijk gereageerd. Op basis van de reactie heb ik nu een podcast opgenomen. Hierin maak ik duidelijk dat het Voedingscentrum echt zijn heupen moet leren bewegen om mét de mensen te praten in plaats van óver de mensen. Hoewel ik in alle eerlijkheid geen kizomba kan dansen, dat is meer een specialiteit voor mijn vriendinnen
Brenda
en Raquel, ben ik wel soepel in de heupen.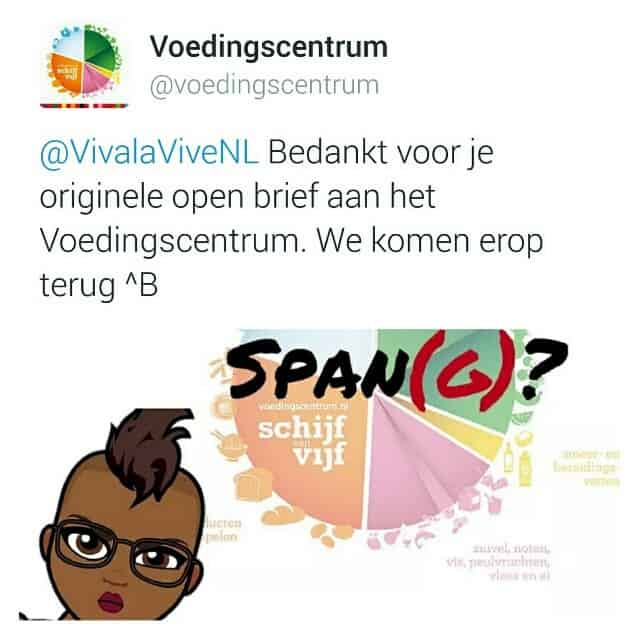 Aanbevolen Dagelijkse Hoeveelheid in de praktijk
Maar nu even serieus. In deze podcast daag ik het Voedingscentrum uit om ook de heupen te bewegen en de zaken wat praktischer te maken. We hebben namelijk te maken met mensen en niet met robots. Bij het maken van eten of het plaatsen van een bestelling bij de World of Food gaan mensen ook niet na of het eten wel past in de aanbevolen dagelijkse hoeveelheid.
Nieuwerwetse voedingsdeskundige
Waarom een podcast? Mijn woorden en bezieling komen krachtiger over in een podcast dan gewoon simpel een blog en ik ben nieuwerwets. Daar kan het Voedingscentrum ook wat van leren. De podcast is geen aanval op het Voedingscentrum, maar uitnodiging om een keer serieus te praten met mensen van de praktijk. Ja, ik ben rebels bezig, maar ik noem mijzelf ook niet voor niets de Nutrition Advocate. Meer info? Luister dan naar de podcast!
Vivian Out
Heb je vragen voor mij of voor Sonya? Stuur deze dan door naar podcast@vivalavive.com  of stel ze via de voicemail (roze tab, rechterkant) zodat ik haar nog een keer uitnodigen voor een interview.
*Sonya Spreekt
Sonya Dias
is een Hartverwarmende dagvoorzitter en talkshow host, die iedereen het gevoel kan geven welkom te zijn. Met haar vriendelijke uitstraling, voelen mensen zich snel vertrouwd en zullen spontaan dingen vertellen. Door haar gevoel voor timing en humor houdt ze als geen ander de balans tussen een serieuze en een losse sfeer.